19/06/2017 - 21/06/2017 - Explaining Brexit – Understanding Brexit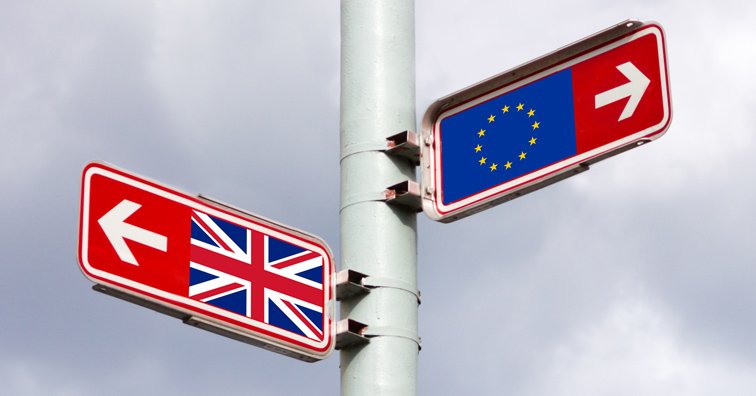 The Department of International Relations and European Studies at MUP is excited to invite you to the three-day "Explaining Brexit – Understanding Brexit" Certificate Course, starting from 19 June 2017 in Prague.
This certificate programme provides an interactive environment that links the Czech political, business and academic communities with their British counterparts.
While the course is based around the presentations of key individuals coming from the United Kingdom and specialists from the Czech Republic, there are also plenty of opportunities to meet participants and speakers in more social environments and therefore to develop stronger bonds that will assist in generating better informed choices in a post-Brexit Europe.
This Certificate aims to:
increase the participants understanding of the Brexit process
address key economic, security and social implications of Brexit
create a multi-sectoral environment for discussions
create an opportunity for participants to specialise in a unique political Framework
To complete the Certificate, participants have to attend the minimum of 3 blocks out of the following:
Block I: What is BREXIT?
Block II: BREXIT and Trade Implications
Block III: BREXIT and Macro-Economic Implications
Block IV: BREXIT and Security Implications
Block V: Brexit and YOU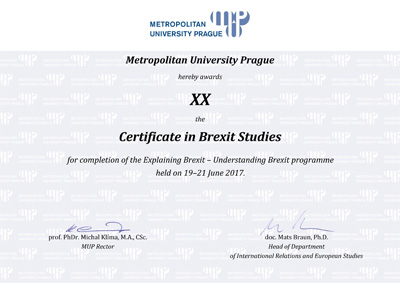 Confirmed speakers include among others:
Keith Boyfield, Research Fellow of the Centre for Policy Studies
Brian Sturgess, Managing Editor of World Economics
Richard Weight, a social historian and broadcaster
Tomáš Prouza, former State Secretary for European Affairs
Petr Kolář, former Ambassador of Czech Republic to Russia, USA, Ireland
Oldřich Dědek, member of the Bank Board of the Czech National Bank
Apply by 22 May 2017

The Registration fee is set at 80 EUR / 2000 CZK and includes refreshments during the programme.
Accommodation is not included.
A limited number of places is reserved for MUP students free of charge.
Accepted applicants will receive an email on how to complete their registration including the payment details in the week of 15 May.