About MUP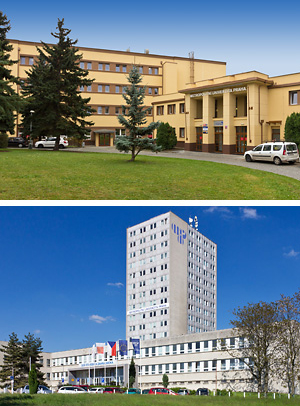 Metropolitan University Prague (MUP) ranks among the oldest and largest private universities in the Czech Republic. Every year, approximately 1500 students enroll in the first year of studies at MUP. The steady influx of applicants interested in studying at Metropolitan University Prague attests to its reputation of a first-rate educational institution. As of present, MUP provides education to approximately 3000 students. Since its establishment in 2001, the university produced more than 17500 alumni. MUP offers study programmes in the area of the humanities, international territorial studies, legal specialisations, media and communication studies, and international economic relations in both full-time and part-time forms of study in Czech as well as English.
Metropolitan University Prague provides education in Bachelor's Degree (Bc.), Master's Degree (Mgr., Ing.), and Doctoral Degree (Ph.D. and PhDr.) study programmes; consequently, MUP ranks among the few private higher education institutions with a university status in the Czech Republic.
International cooperation is among key MUP activities. With respect to the extent of student mobility, MUP ranks among the leading private universities in the Czech Republic with a network of more than 200 partner universities on 5 continents: in Europe within the framework of the ERASMUS programme, in Asia, North Africa, and in the Americas. As a result, MUP offers its students a unique opportunity to study at MUP partner universities abroad. Study stays and internships abroad are available to all MUP students, regardless of their citizenship. Annually, more than 200 MUP students take advantage of this opportunity. By the same token, the interest of incoming students from abroad, who contribute towards the creation of a multicultural atmosphere at MUP, is steadily increasing and is currently represented by more than 150 students per year.
In addition to a high standard of academic instruction, MUP also offers its students the chance to participate in a variety of other programmes under the auspices of individual departments or research centres. Such activities include international conferences and roundtable discussions with leading Czech and internationally acclaimed experts.
The activities of Metropolitan University Prague also highlight the issue of social responsibility. Since 2003, MUP has provided an award-winning social programme for students with physical disabilities entitled School without Barriers. This programme gives students with disabilities the opportunity to obtain a bursary and allows them to study in barrier-free facilities. The School without Barriers programme is dedicated to enabling students reach their full academic potential and helping them find professional positions on the job market.
The instruction of Foreign Languages is an essential part of the students' curriculum at MUP. Therefore, the Department of Foreign Languages was established at MUP to ensure high-quality instruction of foreign languages in order to complement the programmes conducted by other MUP departments. The options include English, French, German and Spanish taught at various levels. Students enrolled in MUP study programmes taught in English who do not speak Czech or Slovak may also choose to learn Czech as a second language. The Department of Foreign Languages offers preparatory language courses that allow MUP students as well as the general public to prepare for internationally recognised examinations in English.
The Department of Asian Studies offers courses of the following Asian Languages: Chinese and Japanese. Students who successfully complete four semesters of an Asian language and pass the final examination may qualify for a Certificate in Asian Languages.
During their studies at MUP, students may acquire certificates attesting to their knowledge in a particular field of study that complement their main specialisation. The objective of the certificates is to enhance the students' knowledge and to provide them with specific skills they may use in practice.
MUP Sport Club
MUP established a MUP Sport Club, a member of the Czech University Sports Association and the Prague Sports Union. MUP Sport Club organises a wide variety of leisure activities for MUP students, including weekly fitness courses, annual tournaments, and weeklong trips (e.g. skiing, cycling, and hiking trips). MUP Sports Club also offers discounts for MUP students in selected sports facilities in Prague and supports student participation in varsity competitions
Modern Environment and High-Technology equipment
3 entirely barrier-free facilities in Prague (Strašnice, Žižkov, and Jarov districts)
two fully-equipped multimedia labs that provide MUP students with an opprotunity to learn how to complete day-to-day multimedia tasks, e.g. audio and video recording, editing, and broadcasting
modern lecture rooms equipped with video projectors and audio systems with wireless microphones
secured Wi-fi access points
electronic Student Information System
ISIC/ALIVE cards for students issued directly at the university
lounge areas providing students with comfortable environment where they can relax and socialise
protected bike racks for students and staff on the university premises
The Jiří Hájek Specialised Library offers access to professional periodicals and a multitude of electronic resources
Cafe Bistro MUP