FIŠEROVÁ, Michaela; CHARVÁT, Martin. Kyberfotografie – Neprůzračné médium a technologický realismus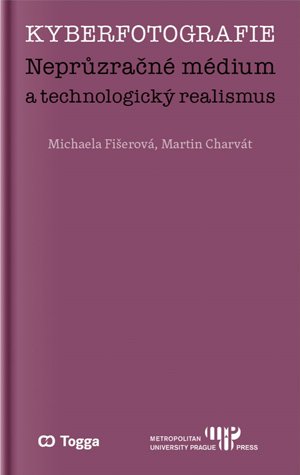 1st ed. Prague: Metropolitan University Prague Press and Togga, 2019. ISBN 978-80-7638-002-8
The collective monograph focuses on the problematics of the "cyberphotography" from the point of view coined by contemporary media philosophy, Michel Foucault's genealogy of dispositive and Jacques Derrida's deconstruction of technology. The authors aim to analyze the change of dispositive, which has taken place in the context of rising digital technologies in the zest century. The nod point of their two chapters is the comparison and differentiation between analogue photography, digital photography and cyberphotography. The authors introduce the concept of the "cyberphotography", which should be understood as a digital photography that is automatically captured and retouched by software of the "smartphone": a hybrid device combining functions of digital camera and mobile phone with the acces to the Internet.
The first chapter deals with the debate about the relationship between photography and "reality". Martin Charvát focuses on the fact that the fantasy of an existence independent "objective reality", which can be caught and represented by the photographic camera, constantly appears in the theoretical discussion on analogue and digital photography. In the era of cyberphotography, such a thing is impossible: the cyberphotography brought radical change into the relationship between the medium and the reality, as well as between the man and the technological device. The man turns to be only the operator of the device, as Vilem Flusser would say.
The second chapter, written by Michaela Fišerová, focuses on the traditional social practice of the photographic retouch, which was supposed to "repeatedly touch", thus to modify the previously "authentic", "untouched" imprint of light. Inspired by Jacques Derrida's philosophy, Fišerová introduces her reflexion by deconstructing the metaphysical expectation of "authenticity" of both analogue and digital photographic technology. Furthermore, in order to explain the new discursive acceptance of the practice of retouch, Fišerová understands the cyberphotography as a new type of dispositive in Michel Foucault's sense of a technology of power that allows to use the pre-programmed sets of possibilities of modification of the imprint of light, which are already present in the software of the photographic camera. Finally, the author comes to conclusion that the digital dispositive of cyberphotography introduces a historically new "technological realism" that enables to normatively retouch the imprint of light, and to discusively give up on the metaphysical expectation of its authenticity.