JINDŘICHOVSKÁ, Irena; DEHNING, Bruce (eds.). Global Rules and Local Use – Beyond the Numbers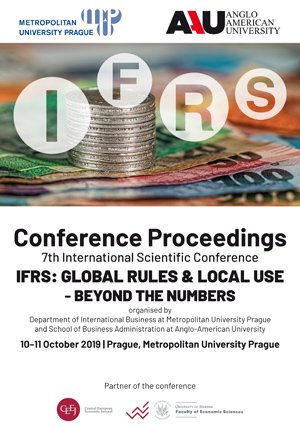 1st ed. Prague: Metropolitan University Prague Press and Anglo-American University, 2019. ISBN 978-80-87956-96-0
The goal of this international conference is to bridge the gap between culturally dependent accounting regulations in different countries; nonetheless, in recent years the scope of the conference has broadened to encompass new areas. The name of the conference reflects this development and it has now extended to 'IFRS: Global Rules for Local Use - beyond the numbers'. 
The conference is now a joint operation of the two Universities Metropolitan University Prague and Anglo-American university together with the international partner the University of Warsaw. This year the conference invited 34 contributions in parallel section and we had 6 keynote addresses from academia and 2 from the profession. Participants came from 12 countries. All professors and keynote speakers played a very active role in discussion in sections helping to improve the papers. The partner university organised the best paper award intended to stimulate academic research of young scholars. 
The keynote address of the representative of the Ministry of Finance of Czech Republic, Dr Kralik introduced the plans for a new national Accounting Act designed to reduce differences between national and international regulations and practices in the accounting area namely on the capital market. 
The presented proceedings now encompass the sections on discussed topics namely IFRS, non-financial and integrated reporting, legal aspects and quantitative studies as well as management and economic policy. Contributions went through a double-blind review process before acceptance. From the reactions of academic participants and guests, we can see that this expansion and new directions were the right tracks for this conference.