POINT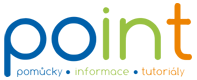 POINT (POmůcky, INformace, Tutoriály) – the portal focused on supporting successful processing of Bachelor/Master theses at the MUP and work with specialised e-sources at the MUP.
It contains texts and videos focused on methodology of expert writing, formalities of final thesis, choice and preparation of research on the theme of a thesis.
The portal offers video-tutorials with example searches in specialised e-sources at the MUP and interesting internet information links for MUP study programmes.